Activation
Switch the power button ON for your brand, products & services.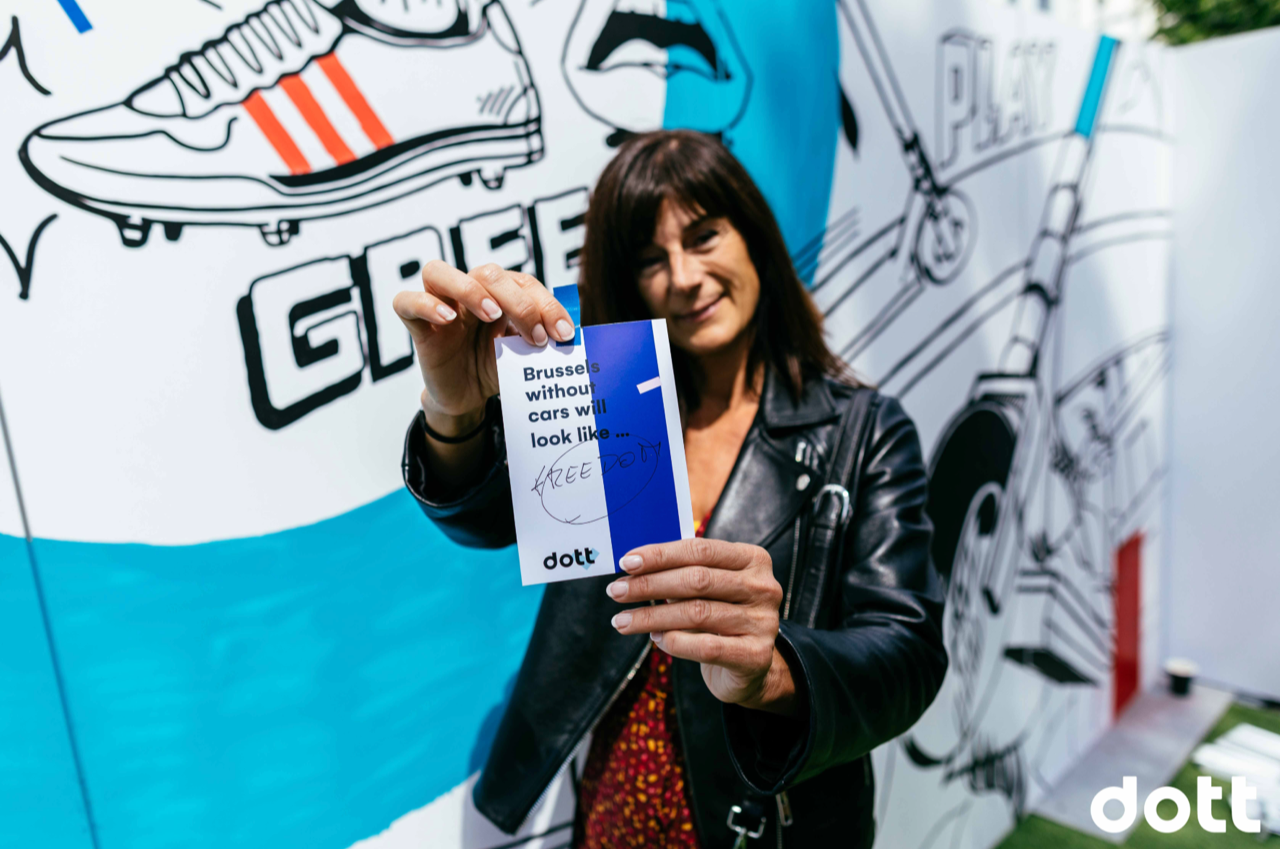 Park Spott
14 + 15 JUNE 2019
BRUSSELS, BELGIUM
What would Brussels look like without cars? With Dott, we created PARK SPOTT in Brussels in June to try and imagine what that would be like. The event showed the positive and responsible intentions of Dott as a local operator and their mission to make green travel the easy choice for everyone in European cities. The audience was encouraged to try Dott's electric scooters, and envision a carless Brussels. Artist Musketon transformed their ideas into art on the spot(t), with Air Ink. A successful, relaxed and creative event!
Flexus
'Groeten uit' activation
10 january 2018
Waasland Shopping Center, Sint-Niklaas
Belgium
If you were in the Waasland Shopping Center on the 10th of January, you had the chance to go back to your childhood. The stunt was created by Flexus and set up by New Balls Please to announce a new season of the television show 'Groeten uit' and record the adjoining commercial spot. Shoppers enjoyed a full makeover of hair and makeup in style of the 60s, 70s, 80s or 90s. As every makeover calls for, before-and-after pictures were taken and reactions to the transformation were taped to commemorate the experience.
Flexus
Blind getrouwd activation
23 JANUARY 2018
Central Station, Antwerp
Belgium
Flexus and New Balls Please joined forces to kick off the third season of the popular television show Blind Getrouwd. A huge stand in Antwerp Central Station simulated a wedding like scenery inviting couples passing by to declare their mutual love. The embrace and kiss of the couples were captured with a thermal camera and projected onto a huge LED screen, demonstrating the heath between the pairs. The picturesque stand drew the attention of many travelers and resulted in a one-of-a-kind experience and a stunning television commercial.
Lidl Belgium
Lidl Beach
23-28 May 2017
De Kwinte, Westende
Belgium
Sun, ice-cold cocktails and tropical workshops … Is it summer already?! For 6 sunny days Lidl Belgium became the real king of the beach, entertaining their staff, the press and the public at this trendy Lidl Beach pop-up bar in De Kwinte, Westende.
Sanoma Media Belgium
Flair Shopping Day
17 June 2017
Docks Bruxsel
Belgium
Flair Shopping Day has become a most valued tradition among Flair's readers as it's that time of the year when they are treated as queen of the day. To again create something most magical, Checkmate and New Balls Please transformed the new shopping center Docks Bruxsel into a place called the Flair Shopping Paradise, welcoming about 27000 visitors, each of them so wildly enthusiastic to experience the famous pop-up fashion show, to meet hostess Eline De Munck in the Flair Lounge or to visit all various, selfie corners, makeup corners and DIY corners.
A.S. Adventure
De Kouter Activation
18 - 21 OCTOBER 2016
GHENT - BELGIUM
"How to make sure everybody notices A.S.Adventure's relocation?" That was the key question occupying our minds. The answer to that question seemed quite simple: just set up a base camp in the middle of Ghent and let clients explore the setting. For 3 adventurous days, A.S.Adventure camped in tents at De Kouter, before taking off to this top location: a renovated, state-of-the-art building at Zonnestraat.
Sanoma Media Belgium
Flair Shopping Day
16 OCTOBER 2016
WIJNEGEM SHOPPING CENTER
BELGIUM
This year, New Balls Please really turned Wijnegem Shopping Center upside down to organize this dazzling Flair Shopping Day. More than 55 000 visitors enjoyed the taste of glitter and glamour! Selfie corners with 'real stars', complete make-overs and DIY workshops made this day just perfect. Also, some special guests were invited: Karen Damen, TV host Eline De Munck and actors Rik Verheye & Bart Hollanders, known from the popular TV show 'Callboys', were very pleased to spend the day with Flair's readers. Finally, DJ Wout and Regi ended this fabulous day with a mindblowing party.
Opel
Check&Go
MID SEPTEMBER – MID OCTOBER 2016
10 LOCATIONS IN BELGIUM
It's time to hit the road! Opel Check & Go tours around Belgium and hits 10 different commercial hot spots in 5 consecutive weekends. While experts did a full check-up of the car, Opel drivers were welcome to have a drink in the Opel lounge. Afterwards they received a report of the check-up and a specific and temporary coupon. Together we keep your Opel up and running!
Sanoma Media Belgium
LIBELLE GREEN FAIR
24 April 2016
Hombeek (Mechelen)
About 200 participants filled the afternoon with green tips, ideas and plants at fair prices. The scope of this fair: making sure that the audience would get acquainted with the large variety of plants, framed in a cozy family-oriented environment and comfortable outdoor terraces.
Sanoma Media Belgium
Flair Shopping Day 2015
18 OCTOBER 2015
WIJNEGEM SHOPPING CENTER
BELGIUM
18 October 2015: About 80 000 Belgian fashionista's gathered at Wijnegem Shopping Center to get pampered like a princess by their favourite magazine. The Flair audience got overwhelmed with several treats, make-overs, tattoo boys, selfie cameras, gadgets …
The central court was transformed to a live stage for Flair On Air. Via the Antwerp regional radio 107.0 FM, online and on air, the home audience was able to follow the entire happening. During the show, hosts Kristin and Lisa welcomed a lot of well-known guests like Eva Daeleman, Ish Ait Hamou (So You Think You Can Dance), Eline De Muynck, Joy Anna Thielemans, Ben Segers, Filip Peeters and many more.
Opel Belgium
Opel Adam pop-up store
february 2013 Stadsfeestzaal
Antwerp - Belgium
Several animations in an Opel Adam
pop-up store in the heart of Antwerp.